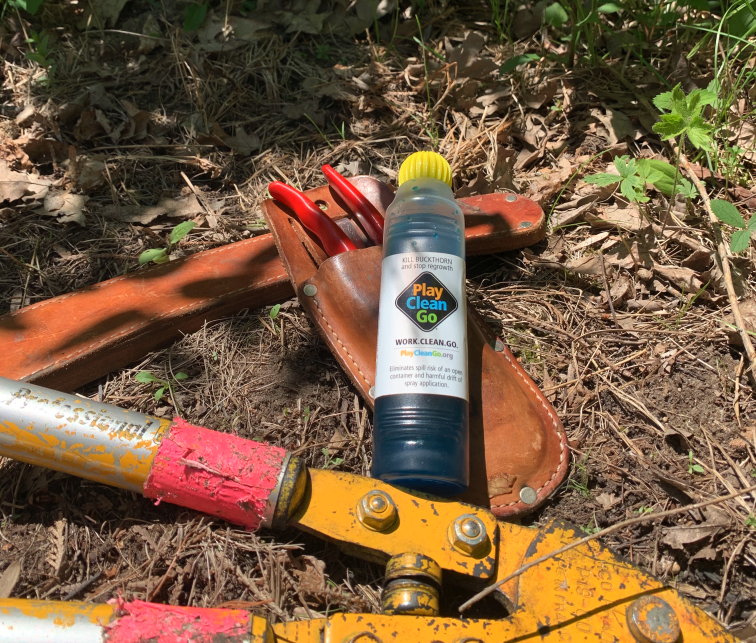 Milwaukee, WI (April 27, 2021)—The North American Invasive Species Management Association (NAISMA) has taken over ownership of the Buckthorn Blaster™, a specialty tool used to apply herbicide to freshly cut stumps and stems. The tool was formerly owned and distributed by Landscape Restoration, Inc., a Minnesota company with a mission to "instill in others a passionate desire to preserve and restore native woodland habitat and plant communities."
Cheryl Jirik, founder of Landscape Restoration, Inc., is an experienced woodland restoration contractor, speaker, educator and private landowner. "I am delighted that NAISMA has taken over sales and marketing of the Buckthorn Blaster™ product line," Jirik says. "NAISMA's broad reach and invasive species management mission provides a wonderful new home for the Buckthorn Blaster™."
The Buckthorn Blaster™ joins dozens of other products in NAISMA's online store, which supports  the prevention and management needs of invasive species outreach specialists, educators and managers. The handheld tool is used by professional invasive species managers, trained volunteers, and private landowners to paint herbicide on the cut stems of unwanted plants in a more precise, strategic way that limits chemical use, prevents hazardous spills or 'drift' from airborne herbicide spraying, and reduces the likelihood of resprouting —a common challenge in many aggressive, woody species.
"Cheryl developed this tool to be helpful for a variety of users. The Buckthorn Blaster should be in everyone's toolbox, and NAISMA is very honored to be the steward of this great tool," says Belle Bergner, executive director of NAISMA. She adds that invasive species management has become a responsibility of all land and water managers to protect North America's natural ecosystems including threatened and endangered species.
The Buckthorn Blaster™ is available at https://naisma.org/shop/buckthornblasterproducts/ for $6.99. Accessories and replacement parts are also available. NAISMA members receive 10% off, and all profits from NAISMA store sales directly support the organization's trainings, standards, and programs that are provided for the invasive species management community.
###
The North American Invasive Species Management Association (NAISMA) is a network of professionals challenged by invasive species: land managers, water resource managers, state, regional, and federal agency directors and staff, researchers, and nonprofit organizations. The mission of NAISMA is to support, promote, and empower invasive species prevention and management in North America. NAISMA's members are a diverse group of individuals and organizations who are involved in implementing invasive species management programs at all scales. Its programs aim to provide the support, training, and standards needed by the professional invasive species management community. For more information, visit NAISMA.org.
Click here to see full article.